Mx S supported us with 1 ticket

Mx W supported us with 3 tickets

Mrs M supported us with 2 tickets

Mrs W supported us with 2 tickets

Ms M supported us with 1 ticket

Mx J supported us with 3 tickets
---
6d 12h 51m

24 April 2021
---
Winner! Mr B (DAVENTRY)

Won £250.00!

Winner! Mrs H (DAVENTRY)

Won £25.00!

Winner! Mrs P (Daventry)

Won £25.00!

Winner! Mrs W (NORTHAMPTON)

Won £5.00!

Winner! Mr A (DAVENTRY)

Won £5.00!

Winner! Mx B (DAVENTRY)

Won £5.00!

Winner! Mr R (Daventry)

Won £5.00!

Winner! Mrs A (NORTHAMPTON)

Won £5.00!

Winner! Mr D (DAVENTRY)

Won £5.00!

Winner! Mr S (NORTHAMPTON)

Won £5.00!

Winner! Mrs J (DAVENTRY)

Won £5.00!
About us
Hi! My name is Lizzie from Moulton Allotments CIC with a wonderful opportunity for you to win big prizes and help a great cause - us!

We took over 140 local allotments from the parish council in mid-July 2016 and in less than two short years have lifted them from the moribund to the vibrant and from isolated to community-engaged. We took over a site with no water supply, toilet facilities or security features. A site neglected with a high vacancy rate and plot holders generally retired. There was so little community involvement many villagers didn't know of our existence: most didn't know the location.

We established professional management and embarked on a host of improvements and community projects, such as our Edible Landscape Project and in association with the local surgery, a Wellbeing plot. We developed wildlife areas and actively encouraged families to join us with the result that 3/4 of our plot holders are under retirement age and we now have a waiting list for plots. We have a Junior Growers Club where children have their own raised beds and learn to grow food. It's extremely popular as is our Crafty Growers Club where children spend a couple of hours Saturday morning making garden-related crafts.
All this costs money of course. We have installed 5 solar-powered wells supplying unlimited free water, new solar-powered security gates, an eco-composting accessible toilet, and a state-of-the-art solar-powered polytunnel cooling and ventilating system. We have no paid staff - all this has been accomplished through hundreds of hours of cheerful labour from dedicated volunteers who also conduct fundraisers and seek grants.
But we need your help if we are to continue to increase our support to the community and reach our objectives. This year we in the midst of installing a solar-powered mains electricity (off-grid) supply, a ring main to supply all plots with abundant water and to build a new "green" social area with potable water, refrigeration and an equipped kitchen area. And we have big outreach plans in hand. All these improvements will embed us further into our community and help us improve the services we currently have.
I'm proud of what we do (can you tell?) and excited to part of this great venture.
So please sign up, select your numbers and I really hope you win BIG. We win every time you buy a ticket - and our community does too. Best of luck and thank you - Lizzie.
Oh, and please email me when you win.
Elizabeth Elliott
Chairman Ways and Means committee
Help us share our cause on social media
How the lottery works
That's right, unlike many other lotteries, our lottery tickets are only £1 per week.
40% to your chosen cause and 10% to other causes in the Daventry district.
Match all 6 numbers and you win the JACKPOT!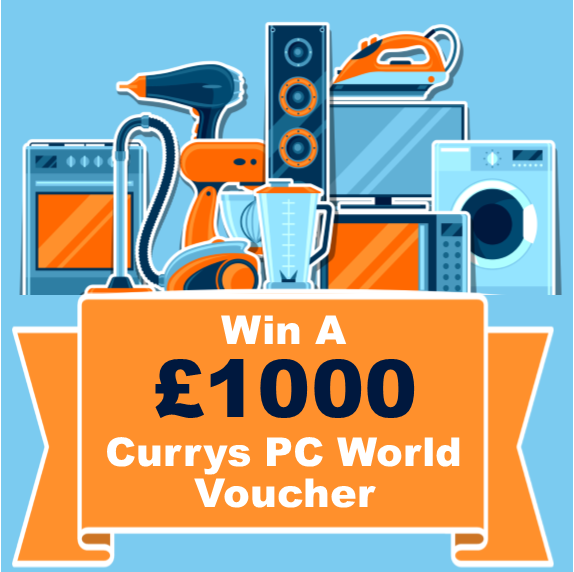 A Grand Prize For Your Home!
What would you buy from Currys PC World with a grand?
Play our lottery to directly support the local community from £1 a week. There are chances at weekly cash prizes PLUS, be in the draw on the 24th of April for your entry into the national draw to WIN a £1000 voucher for Currys PC World.