Mr L supported us with 1 ticket

Ms P supported us with 2 tickets

Ms K supported us with 5 tickets

Mrs N supported us with 2 tickets

Mx C supported us with 1 ticket

Ms W supported us with 1 ticket
---
2d 13h 27m

21 May 2022
---
Winner! Mr J (NORTHAMPTON)

Won £25.00!

Winner! Ms P (HENLEY-IN-ARDEN)

Won £5.00!

Winner! Mr P (DAVENTRY)

Won £5.00!

Winner! Mr D (Daventry)

Won £5.00!

Winner! Mr W (Preston Capes)

Won £5.00!

Winner! Miss H (DAVENTRY)

Won £5.00!

Winner! Mrs L (WELLINGBOROUGH)

Won £5.00!

Winner! Mr M (Crick Northants)

Won £5.00!

Winner! Mrs H (Northampton)

Won £5.00!

Winner! Ms O (MARKET HARBOROUGH)

Won £5.00!

Winner! Ms R (NORTHAMPTON)

Won £5.00!
About us
Crick Woodlands provides places to walk, talk, meet and enjoy nature. It provides a safe and welcoming space where our children can learn about, and come to respect, the natural world around them. It protects and enhances a little of our precious environment for future generations to enjoy.

Since we joined the Local Lotto and encouraged others to become one of our supporters by buying tickets, we are now on course to reach our intial target of £1,000 a year for Crick Woodlands. Thank you to all our supporters!

When we set out we had hoped to raise enough funds to buy a machine to chip branches and cuttings we had cleared, and use the chippings to improve pathways. However, having taken advice, the kind of chipper we would need would be very expensive to buy and only occasionally used. We are now looking at a longer term solution to improving our pathways when they become wet and muddy, to make them easier to walk. Your support will help to make this possible.
Thank you for your support and good luck!
Yours sincerely,
Steve Lassman - Chairman
Help us share our cause on social media
How the lottery works
That's right, unlike many other lotteries, our lottery tickets are only £1 per week.
40% to your chosen cause and 10% to other causes in the Daventry district.
Match all 6 numbers and you win the JACKPOT!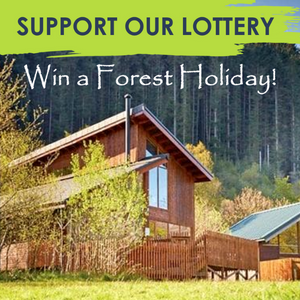 Win A £1000 Forest Holiday
Ever want to get away from it all? Well here's your chance - get your tickets before 25th June for your chance to win a fabulous Forest Holiday to the value of £1000! Choose from 12 different locations throughout the UK.